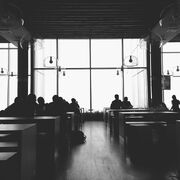 There exist a diner not found on any map. It will not show up on any GPS. It appears on long roads to those hungry and in need of rest. Open 24/7 and always occupied by strange regulars and a cheerful staff. A bell would ring if you entered and a smiling waiter would show you to one of the many wooden booths. Wood panelling lines the walls and classic rock plays softly on a radio. The coffee is heavenly, just don't mind the stares from the regulars.
Tell your troubles to the waiter, she won't mind in fact she is counting on it. She would listen with an open mind and a kind heart, and when you finish she would tell you "Don't worry dear, all will be well." Words that seem to lift a weight off your soul. Just like that you know, all will be well indeed.
Take Mrs Emmie Barnet for example. A businesswoman, traveling the long road home. She complained about her old Pontiac to a smiling waiter over a cup of coffee. "Don't worry dear, all will be well" she was told, and with renewed confidence she traveled onwards towards home. Only a few hours later she was hit by a drunk driver. She survived with a number of injuries but her hated car was totalled. Her wish granted, but such things have a price and Mrs Barnet's injuries were not enough. When her children visited her in the hospital she found herself unable to feel any warmth towards them. A part of her soul was taken.
So things go, over and over again. Such faustian packs are made every night. The diner never seems to be in the same place twice for those wise enough to put together the pieces. Most however simply never notice. There memories of the diner fade like a dream.
Now you may wonder what does Stargate want with bits a pieces of human souls. Well you see Stargate serves more then just mortal clientele. The strange regulars all have a specific taste and the diners cook knows just how to please each one useing the special ingredient gathered for him. So next time you unload your troubles to a stranger be weary, for that stranger may take from you more then just your burdens.